Alexa has an answer for (almost) everything, but when Amazon announced earlier this year that its digital voice assistant could now answer health-related queries, I was more than a little skeptical.
Don't get me wrong, Alexa is digitally wise and powerful – that's half the reason the Amazon Echo devices rank among the best smart home devices we've tested (the other half being sound quality and device performance). However, when it comes to my health, I'm used to trusting living, breathing medical professionals, and I bet you are too.
Before pitting Alexa against a litany of ailments, both my own and others', I had some serious questions: Could an AI, even rigorously trained in the nuances of human speech, really analyze my health symptoms? and return a list of possible causes? Would the answers be complete, accurate and relevant? Would the interactions be meaningful?
After testing the new feature multiple times over the past month, I can answer these questions and more with a resounding (if mildly amazed), "Yes."
What the new Alexa Symptom Checker is (and isn't)

The idea of ​​developing a general-purpose symptom checker function was initially prompted by Alexa's Covid-19 Symptom Checker, an earlier, more targeted health-related version. It debuted in March 2020 and worked in the same conversational way.
Essentially, the new symptom check feature lets you pass a list of all the medical symptoms you've been experiencing to Alexa, which will then ask follow-up questions before responding with a list of 10 possible conditions that may be causing it. of your symptoms.
To start the symptom checker interaction, say, "Alexa, check my symptoms." From there, Alexa will ask a series of yes-or-no questions to help determine what underlying medical conditions might be related.
You can start this conversation on any Amazon Echo, including speaker-only devices like the Echo and Echo Dot, but for the best experience you'll want to use an Alexa device with a screen attached like a Echo Show smart display, Amazon Fire Tablet or Fire TV. Echo Show adds a visual element to help you and Alexa focus on potential medical conditions – for example, a graphical pain scale with faces drawn from smiley to frowny can help you decide on a number when Alexa asks how much something hurts between zero and 10.
Amazon clarifies that these interactions are "for educational purposes only" and that Alexa responses do not constitute medical advice. Think of it less like seeing a real medical professional and more like searching the web or gathering information from sites like WebMD or Healthline.
"Advances we've made in conversational voice technology have opened the door for people to access information in new ways, and that's what led to the development of the Alexa Symptom Checker," said the Amazon vice president and chief operating officer Debra Chrapaty, who oversees Amazon. Alexa, by email. "It's designed so you can simply tell Alexa the symptoms you're experiencing, answer yes or no questions, and learn more about possible causes, all without having to fill out any forms."
How comprehensive is Alexa Symptom Checker?

According to Amazon, the Alexa symptom checker currently supports over 70 different types of common symptoms, including fever, rash, upset stomach, runny nose, and headache, and they plan to add more. add other symptoms over time.
To generate the list of 10 possible causes for your symptoms, Amazon says Alexa references clinical care guidelines provided by Amazon Care, a medical group that helps customers with a wide range of urgent and primary care services. These possible causes are selected from a supported set of thousands of conditions, such as a cold, strep throat, or upper respiratory infection.
To test the rigor of the feature, I started out pretending I had a few simple health issues, like the flu, colds, and Covid-19 (of course). Alexa returned the condition I was looking for in the top three of those 10 answers 100% of the time, and got it in the top spot almost every time.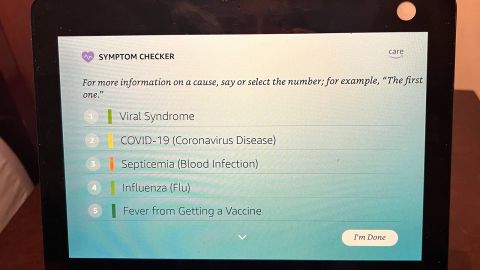 Then I moved on to more complex conditions, referring either to my own personal experience or to that of someone close to me. Diverticulitis, pneumonia, and asthma were three I tested, and Alexa nailed it by responding with each of those and a few others all in the top three, although that's only in the case of asthma that it was listed first.
It wasn't until I started testing for rare or unusual health conditions that Alexa stumbled – mitral valve prolapse (a heart condition), Shwachman-Diamond syndrome (a genetic condition) and renal cell carcinoma (kidney cancer) were not on the list of possible conditions, although to be fair, all three of these diagnoses require diagnostic tests, which are not part of the list of symptoms that Alexa can extract .
What happens afterwards?

Alexa's new symptom checker feature can also connect directly to Teladoc on Alexa, another new health-related service that debuted on February 28 and connects you to a real health care provider. live health. Currently, the service only offers audio tours, but Amazon says video tours will be available soon. Near the end of the symptom check experience, Alexa lets you know that you can say "I want to talk to a doctor" to connect to the Teladoc call center.
Teladoc starts at $75 without insurance and varies — maybe even free — for those with some insurance.
There are many other ways Amazon is set up to bridge the gap between Alexa's health features and any medical services or information you might seek as a result. Besides telehealth consultations with human clinicians and Amazon's online pharmacy (you can check online if it delivers to your address), Alexa is ready to help you locate a nearby Covid-19 vaccine or booster, set a reminder to take your medication or find the phone number of a nearby provider.
How Amazon manages your private data

To address concerns about private data, Amazon is quick to point out that the symptom checker isn't built into Alexa — you don't have to use it when you buy an Amazon Echo. Along with not using it at all, you can also skip individual questions if you don't feel comfortable answering them, but it's unclear how that might affect Alexa's accuracy when answering. answer.
Like every time you interact with Alexa, you can view, listen to, and delete your voice recordings through Alexa's privacy settings or in the Alexa app. You can also say to an Amazon Echo speaker or display, "Alexa, delete what I just said" or "Alexa, delete everything I said today."
At the end of the line

Health is a thorny issue in the United States, with a large percentage of the population uninsured or underinsured, so it worries me that Amazon's warnings that Alexa Symptom Checker is for "educational purposes only" could be ignored by those who suffer from medical problems but are unable to afford professional care.
However, it is somewhat reassuring that while the symptom checker does not replace the need to see a doctor, especially in an emergency, at least the information it provides is pulled from Amazon Care, a bona fide professional health service. Perhaps because of this, Alexa responses seem to be incredibly accurate when identifying all but the most complex health conditions.
Smart speakers have already justified their place in our homes by being useful – allowing us to issue voice commands to play music, set timers and alarms, retrieve the weather report and check the time comfortably. and practical. Devices like the Amazon Echo and Echo Show have also proven beneficial when we use them to connect via video calls with distant relatives, prepare healthy recipes or play educational programs for our children.
So it seems natural that the features and functions of these devices will eventually evolve to handle more serious tasks like our health questions and needs. Alexa Symptom Checker seems like a bold step in that direction, adding real value to both the Amazon Echo devices you already own and those you might buy later.