MURRAY- The Murray-Calloway County Chamber of Commerce's annual business celebration reached an emotional high Friday night when the late Calloway County Deputy Sheriff Jody Cash was named the 2022 Citizen of the Year.
"This award is our last for the night," said the evening's master of ceremonies, Logan Stout, from the stage at the recently opened FOR Center. "Previous recipients can be seen in your program and include people from all walks of life and business segments, including political leaders and our everyday heroes. This year, the 2022 Citizen of the Year award goes to someone known for his generous spirit, immense compassion and servant heart. To know her is to know laughter, humility, friendship and integrity. Fast to help, fast to partner and proud to be a Murray Calloway County citizen.
"Although this person worked in the realm of human tragedy, he shone brightly. Tonight we honor a citizen whose life was unfortunate to have been killed in the service of this community. It is with a heavy heart and a somber spirit that we sadly said goodbye to one of the greatest citizens our community has ever known. His brothers and sisters in law enforcement grieved the loss of their dear partner and never imagined this would happen to one of their own. He was a beloved friend, son, father and husband who can never be replaced.
"The number of people sharing stories, memories and the ways his life has impacted them has been incredible and true testament to how special he was to so many different people of all ages and walks of life . He had faith in humanity, faith in people, faith in our community, and a devoted faith in God. He will be remembered by many forever. We are proud to honor a man who more than deserves this award. Our 2022 Citizen of the Year is Chief Deputy Sheriff of Calloway County Jody Cash."
Murray-Calloway County Hospital sponsored the award, and CEO Jerry Penner presented the award to Cash's widow, Michelle. Also present at the ceremony were his parents, Wayne and Teresa Cash, and his sister, Kelly Byrd.
Citizen of the Year is one of three business awards presented each year, the other two being Business of the Year and Emerging Business of the Year. Also presented each year are six Chamber Awards: Non-Profit of the Year, Young Professional of the Year, Woman in Business of the Year and Educator of the Year, which were introduced last year.
"A board committee narrows submissions to the top three in each category," Stout said. "These submissions are then sent to other chamber professionals outside of our community, which is important, and they read what was submitted by the nominators. So there's no bias from our chamber because it's the people outside the chamber who can see these top three. Tonight we will be presenting the winner of each category with a beautiful award to display in their office or place of business. Just being nominated is an honor in itself, and we're proud of the names of all the companies and individuals you'll be hearing tonight.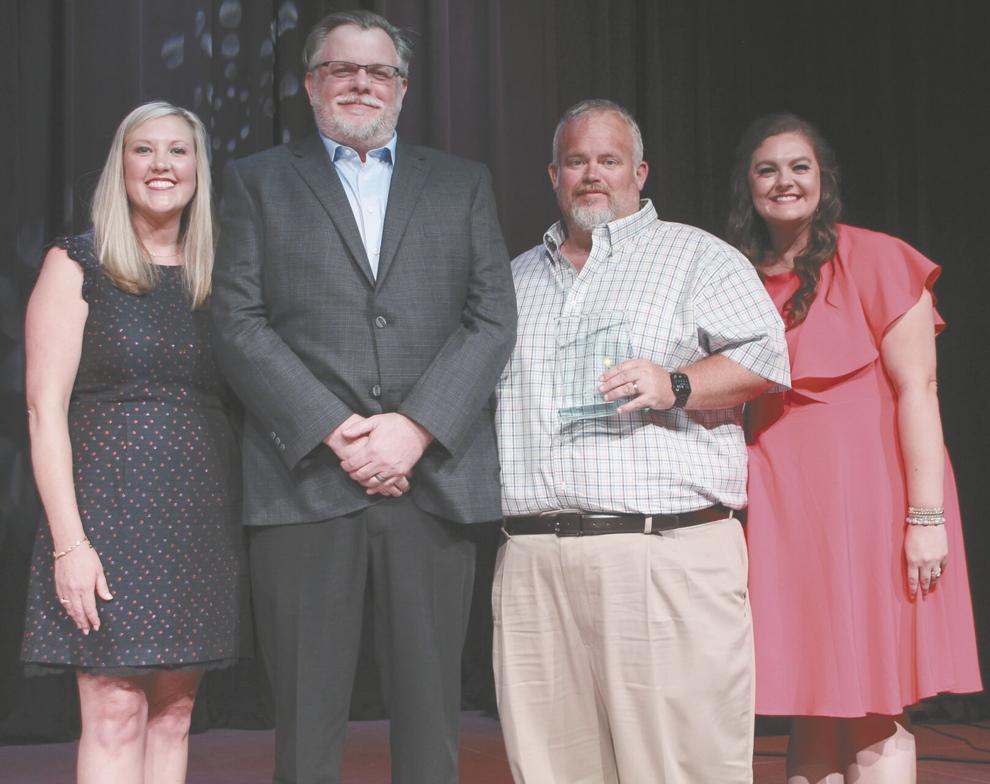 Company of the Year went to The Keg Restaurant, with the other two finalists being Hall's Waste Management and iwis-Daido.
"This award recognizes a company that has had tremendous success over the past year and made tremendous contributions to our community," said Stout. "…The Keg is a local restaurant owned by Darren Yates. With almost 80 employees, he and his family take great pride in their service. They have made continuous improvements (after the start of the COVID-19 pandemic) to meet the ever-changing times that are hitting the restaurant industry extremely hard. They found a way to make it work by offering robust to-go and delivery services and expanded dining areas, both enclosed patios and alfresco dining, and began producing their own branded products."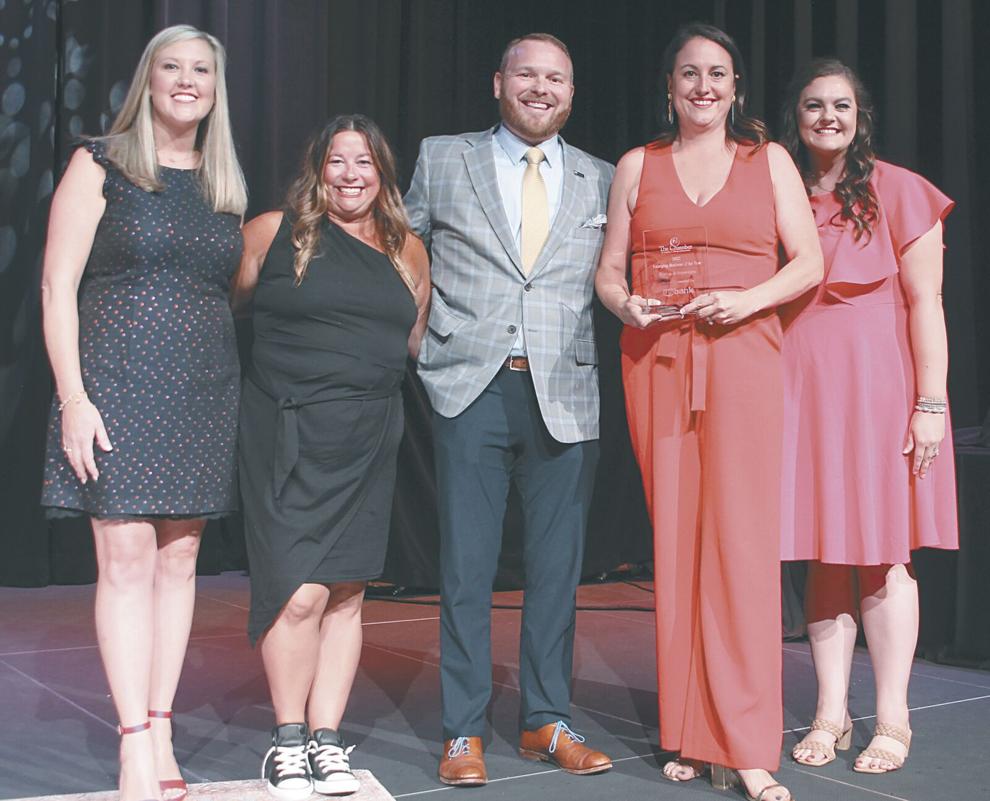 Emerging Company of the Year went to Payton & Associates, with the other two finalists being Five Psalms Co. and Granola Girls.
"This award was created to recognize companies that demonstrate rapid and innovative growth," said Stout. "Today's winner brings a fresh perspective to her industry. Their team goes above and beyond what is expected and provides an incredibly positive experience for their customers. This business owner's goal was to find a job that would allow her to work with people in a service position and that career dream became a reality when she made the decision to start her own business in 2021.
"Her nomination reads, 'If you've ever met her, you realize right away that she's a remarkable force who will make a positive impact. And she has; her team has. With her commitment to the highest quality of customer service, it's no surprise that she is a top performer and award winner in our industry, as her team has seamlessly guided clients and the community through the insurance process since joining Murray in 2008.' Tonight we recognize an individual and their team for thriving in the health insurance industry and giving back to the community in so many ways."
The six chamber awards were as follows:
• The Chair's Award went to Jennifer Apple, Chief Client Officer at Community Financial Services Bank (CFSB). She is currently a member of the Board of Directors of the Chamber.
• The Young Professional of the Year Award went to Sawyer Lawson, originator of CFSB Residential Loan.
• The Charity of the Year went to HOPE Calloway. The other two finalists were Purpose Church and Wesley Living of Murray.
• Young Professional of the Year went to Sawyer Lawson, CFSB home loan originator. The other two finalists were Kayla Huggins from Industrial Training Services and Becca Parker-Bell from Therapy Specialists of Murray.
• Woman in Business of the Year went to Sally Hopkins, President and CEO of FNB Bank. The other two finalists were Kailey Starks, owner of Miss Kailey's Dance Studio, and Whitney York, Assistant Superintendent of the Murray Independent School District.
• Educator of the Year went to Southwest Calloway Elementary School teacher Yvonna Hooper. The other finalists were Murray Family Resource Youth Service Center (FRYSC) coordinator Morgan Carman and Calloway County Schools director of special education Lynsey Smith.