FlipBuilder offers a free online catalog maker for increased engagement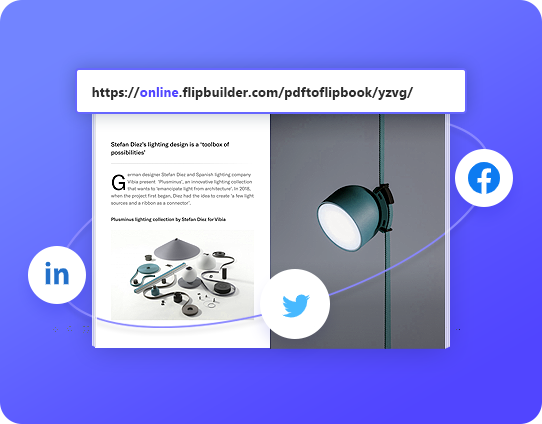 "Free online catalog maker"
The software uses innovative technology to design responsive catalogs accessible on mobile devices.
FlipBuilder offers its online catalog maker for free to help creators design custom product catalogs for their customers. The digital catalogs created by the software are formatted for various platforms including smart devices, websites, social media, and offline reading. They provide fresh and trending content that increases people's attention span. FlipBuilder also allows users to update their content even after publishing. Adding videos, links, music, images, pop messages, and other media attract more customers with the intent to buy. These elements engage them deeply, creating a seamless shopping experience that guides them through their buying journey.
Digital catalogs help consumers find the products that match their needs. When embedded on websites, buyers can easily find product details and decide to place an order. This free online catalog maker helps marketers design catalogs with more information about products, their work, specifications, prices and features. This allows buyers to assess whether the products are suitable for their unique needs.
"At FlipBuilder, we strive to help our customers get the most out of our software products," said Ken Glenn, Marketing Director of FlipBuilder. "Our online catalog maker is built with innovative technology that allows users to enhance their catalogs with responsive designs and features. Once published, your catalogs will boost your online presence, brand credibility, market of products and your overall sales.They help facilitate the way consumers browse and purchase your products.
FlipBuilder helps everyone to download this online catalog maker for free. This fantastic online catalog maker also produces SEO-optimized catalogs, which helps users direct their customers to different points in the sales funnel. Marketers can enhance their posts with videos, images, and other SEO elements. Data quality is improved, which Google needs to rank posts higher on search pages. Pages with quality images and videos attract more views, reduce bounce rates, and ultimately increase conversions and sales.
This online catalog maker allows businesses to monetize their catalogs, allowing consumers to purchase products directly. Additionally, by adding price information and other details, users can also add payment details to product pages to enable direct purchases. They can integrate several online payment options to meet the needs of local and international customers. This saves time and provides seamless transaction experiences that will encourage loyal customers.
Visit FlipBuilder to get more information on how to download the online catalog maker for free.
About FlipBuilder
FlipBuilder is revolutionizing the way brands market their products. It offers the tools to boost marketing efforts through stunning posts.
Video link: https://www.youtube.com/embed/sFxLq23m0RA
Media Contact
Company Name: FlipBuilder.com
Contact person: Customer service
E-mail: Send an email
Call: +86 020-61972665
Country: China
Website: https://www.flipbuilder.com/