FlipBuilder's latest free flipbook maker surprises users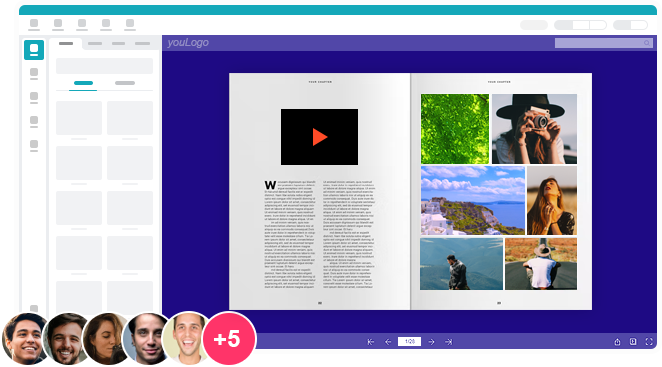 Flip PDF Plus Pro enables users to convert PDF files to personalized flipbooks with newer and better media editor.
Flip PDF Plus Pro is the newest software from FlipBuilder which provides an easy way to convert regular PDF files into impressive booklets with fantastic page flip animations and sound features. Converted flipbooks can be uploaded to the web, exchanged via email, and available for distribution using this free flipbook maker.
This free flipbook maker is more advanced and state-of-the-art software that allows users to experiment even more with their flipbooks. State-of-the-art features allow anyone to create a variety of digital publications. People from all walks of life can use this free flipbook maker to create e-books for different purposes.
FlipBuilder's free flipbook maker also supports videos from YouTube and Vimeo. It allows users to embed videos in their posts to showcase their products/offers or provide additional information about brands, products and services or explain complex procedures. Videos have the power to boost audience retention and product sellability. That's why FlipBuilder allows users to use them in their projects to interact with viewers and help them understand brands and products well enough to make informed purchasing decisions.
The flipbooks made by Flip PDF Plus Pro are more eco-sustainable and accessible than the traditional paper edition. Users can turn PDF print catalogs, flyers, brochures and magazines into online shareable books with this free flipbook maker, directly upload them to an online cloud site, and burn them to CDs or USB flash drivers for distribute them offline, integrate them into a website. page, and share on Facebook and Twitter.
In addition, Flip PDF Plus Pro's built-in advanced audio assistant allows users to record audio for each page of the book with synchronized text embedded in the rotating book or apply existing audio files directly for all book pages. Moreover, Flip PDF Plus Pro is compatible with a wide range of platforms such as Mac, Windows, iPhone and Android devices, enabling seamless interaction with consumers.
To find out more information about this free flipbook maker, stay tuned to FlipBuilder.
About FlipBuilder
FlipBuilder is an exclusive online software company that helps users convert PDF files to flipbooks. As a proficient software developer, FlipBuilder focuses on providing state-of-the-art digital publishing software to users from different industries.
Video link: https://www.youtube.com/embed/sFxLq23m0RA
Media Contact
Company Name: FlipBuilder.com
Contact person: Customer service
E-mail: Send an email
Call: +86 020-61972665
Country: China
Website: https://www.flipbuilder.com/