Inside Chubby Checker's 57-year-old interracial marriage to Miss World Catharina Lodders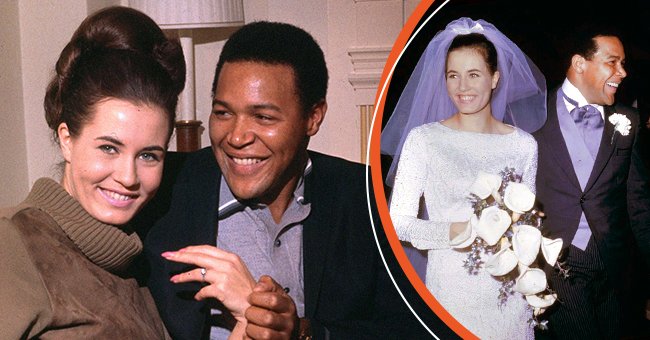 American rock and roll singer and dancer Chubby Checker has been married to former beauty queen Catharina Lodders for 57 years. Discover the couple's magnificent and lasting marriage.
rock and roll singer and dancer Chubby checker is mainly known for creating many styles of dance like Twist and Pony which he made popular. He is also famous for his hit songs like "Let's Twist Again".
The 80-year-old has enjoyed a successful career and is still active. Happy married to Catharina Lodders, former beauty queen for 57 years, the couple's relationship has stood the test of time.
Checker was born Ernest Evans on October 3, 1941 in Spring Gulley, South Carolina. He grew up in the South Philadelphia Projects and lived with his father and mother, Raymond and Earthle Evans, and two brothers.
As a young boy, Checker worked in a variety of jobs such as shining shoes, selling ice cream, and being an assistant butcher. He received the nickname "Chubby" while working as a teenager at Tony Anastazi's merchandise store.
During a 2015 appearance On Fox 8 News Cleveland, Checker revealed he was overweight when he was younger and was therefore given the name "Chubby Checker".
He was doing something for Dick Clark and was playing the piano when a lady said, "It's Chubby. Then, she added, "it's Chubby like Fats and Checker like Domino."
The woman put Checker on the Chubby, causing it to become "Chubby Checker". Checker further revealed that the lady in question was Mrs. Dick Clark.
One of Checker's greatest gifts was his knack for imitating others. He liked to emulate the styles of his musical heroes like Fats Domino, Elvis Presley and Jerry Lee Lewis.
Checker began performing in the streets and in churches with his group of singers, "The Quantrells". His performances caught the attention of Philadelphia music executives.
In 1959, he signed with Cameo-Parkway Records and released two minor hits, "The Class" and "Dancing Dinosaur". The record company urged him to make his version of "The Twist," which Hank Ballard had originally written and performed.
Ballard's version enjoyed modest success on the music charts. However, when Checker released their version with an accompanying dance routine, the song was given new life.
"The Twist" was revolutionary as a dance movement because it gave couples the freedom to go their separate ways on the dance floor.
Checker's version of the song was a huge hit and topped the Billboard charts in 1960 and 1962, becoming the first and only 45 single to peak in two separate years.
Checker recorded many other songs in the years that followed, but none reached the heights reached by "The Twist". However, he continued to capitalize on the success of the song and released songs with similar titles.
Besides singing and dancing, he also appeared in two films, "Twist Around the Clock" and "Don't Knock the Twist", which were released in 1961 and 1962. Checker is now 80 years old but continues to sing and sing and dance. to dance.
Checker and Lodders were discriminated against when they tried to buy a new home in Philadelphia.
WHO IS CATHARINA LODDERS?
Catharina Lodders is a Dutch model. She made history in 1962 when she participated in and won the Miss World beauty pageant in London. She was 20 when she won the crown.
Before winning Miss World 1962, Lodders, who is now called Rina Evans, following her first name shortening and marriage to Checker, won Miss Holland 1962. She also finished third in the 1962 Miss International pageant and has won Miss Benelux.
After winning the Miss World pageant, Lodders remarked that she was not the most beautiful girl in the world but only the most beautiful girl in the pageant.
Auditor offers in Lodders on December 12, 1963, at his parents' home. Her proposal came a month after her reign as Miss World ended. He revealed that he had met her in Manila last January.
The couple married on April 12, 1964, at the Temple Lutheran Church in Pennsauken, New Jersey. The couple were 22 when they tied the knot. Reverend George L. Garver officiated their wedding ceremony and made no mention of the interracial nature of their union.
On May 2, 2016, the Facebook account of the Cameo-Parkway fan page share a photo of Lodders and Checker on their wedding day flanked by record company president Bernie Lowe and his wife, Roz.
Months after getting married, Jet Magazine interviewed Checker and his wife to find out how they were doing. The couple looked happy together and expressed their love for each other during the conversation.
Checker said he loved his marriage and thought it was great. He also expressed the belief that his interracial marriage to Lodders would be successful regardless of the condition.
Checker also said his wife was aware of racial issues in America but didn't care. He said they got along well and had a great time together. He further claimed that they were two people with a similar outlook on life.
In the first few months of their marriage, Checker and Lodders faced discrimination when they tried to buy a new home in Philadelphia.
Checker said they are from a new generation, do not believe in segregation and will not accept it. However, he added that they would continue to search until they found the type of home they wanted and could get it with dignity.
Checker also advised his wife to keep her eyes and ears open so she can learn a lot as they get to know each other and adjust to the country as an interracial couple.
The love and complicity that bound the couple remain despite the odds and helped them nurture their marriage, which lasted 57 years and over.
Checker and Lodders welcomed their first child, Bianca Johanna Evans, on December 8, 1966. They are also the parents of WNBA player Mistie Bass and musician Shan Egan. By Reuters, they are Grand parents to seven children.
In 2016, the Herald-Tribune reported that Checker and Lodders visited their former pastor, Garver, who celebrated their wedding on their 100th birthday. The beautiful couple looked so good together as they posed for snaps with Garver and his loved ones.