Irico New Energy's share soars after Chinese glassmaker signs $302m PV glass order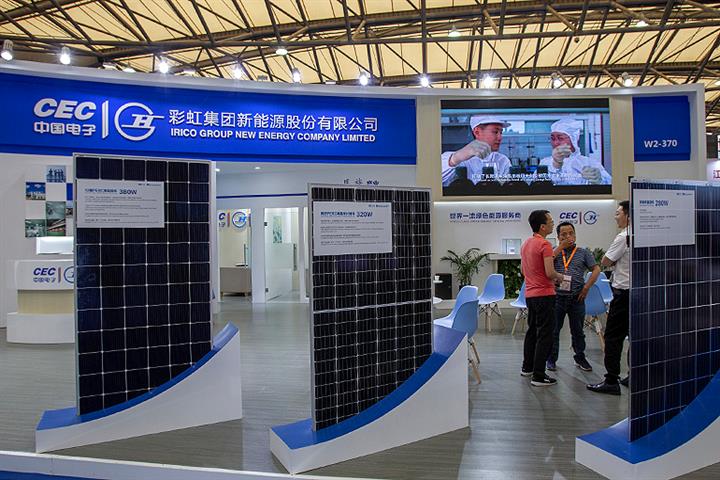 (Yicai Global) May 23 — Shares of Irico Group New Energy surged after the group based in northwest China's Shaanxi province announced the signing of a two-year contract to the supply of photovoltaic glass for a total amount of 2 billion CNY (302 million USD).
Irico [HKG: 0438] closed up 13.6% at 9.72 HKD (1.24 USD) today, while the buyer GCL System Integration Technology [SHE: 002506] gained 1.2% to 3.43 CNY (51.44 US cents).
From this month to April 2024, GCL System will prioritize the purchase of photovoltaic glass from Irico, the pair said in statements released late May 20.
The value of the agreement is approximately 2 billion yuan based on the market price of 3.2 millimeter coated photovoltaic glass. A research report from Tianfeng Securities earlier this month noted that the current price of 3.2mm coated PV glass is around CNY28.5 ($4.3) per square meter.
In the past two years, the total amount of PV glass purchased by GCL Energy Technology, a unit of GCL System Integration Technology, from Irico reached only CNY 66 million (USD 9.9 million), and the total amount of PV glass purchased from all suppliers only reached 160 million yuan, the company said.
He added that the reason for the significant increase in the purchase of photovoltaic glass is due to the demand for the company's raw materials after the completion and operation of its new photovoltaic module factory in Hefei, the capital. from the Chinese province of Anhui.
GCL System Integration Technology's 2021 annual report showed that part of the solar module production capacity of the first phase of the Hefei production base has been completed and put into operation. It is expected that after full production in the third quarter of this year, the total firm production capacity of solar modules will increase from 5 GW to 20 gigawatts before the plant is commissioned.
GCL System Integration Technology is a leading integrated design and solution provider for photovoltaic power generation systems in China. Its parent company, GCL Group, ranks second in the world for total installed capacity of photovoltaic power plants, according to the company's website.
Irico manufactured China's first-ever color kinescope and liquid crystal glass substrate. In recent years, it has moved from traditional color cathode ray tubes to new areas such as solar glass, photovoltaic power plants and new electronic materials.
Publisher: Pierre Thomas