SmarTooth's cavity checker is to launch on Indiegogo, raising the stakes for home oral care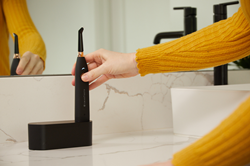 "The beauty of SmarTooth's multi-use functionality is that the oral health of your loved ones can be covered with just one device… At a fraction of the price, our users can truly live by the phrase 'better safe. than cure'."

SEOUL, South Korea (PRWEB)
September 16, 2022
It's no surprise that home tech gadgets do well on crowdfunding platforms – we're constantly on the lookout for the next nifty thing that can make life easier, and SmarTooth's dental checker verifies just that.
SmarTooth uses X-ray-like technology to locate cavities long before they are visible to the naked eye, allowing users to act quickly and extend the coverage they receive at the dentist to their dental care routine. The wearable device helps eliminate the uncertainty and fear that comes with dental appointments by helping you stay well informed about your teeth.
Ergonomically designed for use at home or on the go, the battery-powered SmarTooth makes dental care accessible to everyone. The Cavity Checker uses fluorescence spectroscopy, an application used in medical facilities to detect abnormalities using light technology. By emitting non-invasive wavelengths onto the teeth, signs of decay are picked up and relayed by SmarTooth's 3-level sound and light alert system.
Replaceable high-tech sensors work like laser tips, detailing each tooth and around it, ensuring that no hard-to-see spots are overlooked. The device is paired with a smart app that keeps track of your cavity history, letting you know exactly when it's time to see a professional. SmarTooth's all-in-one services help locate the nearest dentist for your needs right at your fingertips.
"The beauty of SmarTooth's multi-use functionality is that your loved ones' oral health can be covered with just one device. By interchanging sensor tips for each user, families can save thousands of dollars on their bill. At just a fraction of the price, our users can truly live by the phrase 'prevention is better than cure'," says Seohyun Yoon, Head of R&D.
SmarTooth is a South Korean company founded by a woman with 7 years of experience in manufacturing dental appliances. As veterans in the field of oral health, the designers wanted to distinguish the main pain point from emotional turmoil and unforeseen craziness during visits to the dentist.
Starting September 20, 2022, SmarTooth will be available for pre-order at 44% off MSRP for a limited time of 30 days only. The SmarTooth is available in black/gold or black/silver, each with 24 sensor tips that estimate a year's worth of single-user use and a storage box (battery not included). Visit their pre-launch page and website for more information.
Hojung Son, CEO of Smartooth

Email: [email protected]
Share the article on social networks or by e-mail: