US military arms maker to produce anti-aircraft missiles for Ukraine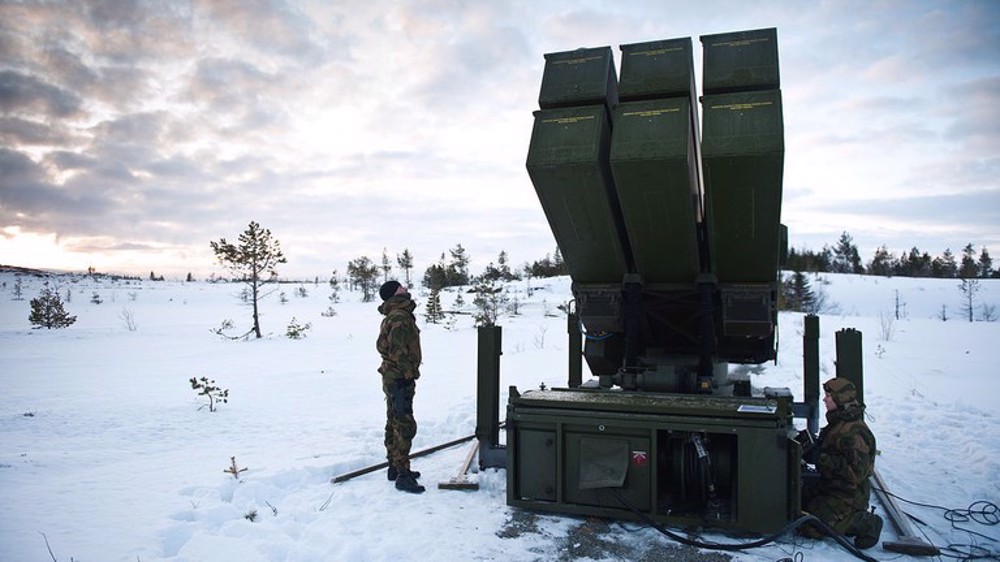 The US military has signed a $182 million contract with major US arms manufacturer Raytheon to manufacture National Advanced Surface-to-Air Missile Systems (NASAMS) for the Ukrainian Armed Forces.
Production of the short- and medium-range air defense armament will be carried out at Raytheon's factories in Tewksbury, Massachusetts, with an estimated completion date of August 23, 2024, the Pentagon said in a statement Friday.
The statement was released just days after US President Joe Biden unveiled another huge military aid package for Ukraine as part of Washington's persistent efforts to help kyiv continue its war against Russia, which has launched a special military operation in the neighboring country as a security measure against the East. expansion of the US-led NATO military alliance.
The nearly $3 billion military assistance represents the largest US weapons package for Ukraine to date and will include six NASAMS systems.
The weapons shipment would be funded under the so-called Ukraine Security Assistance Initiative (USAI), which means that the military equipment will be produced specifically for kyiv, and not taken from US arms depots.
NASAMS was described in an article published in Air Force Magazine earlier this month as vital technology that could enable Ukrainian forces to shoot down Russian cruise missiles, which have hit targets in the country so far. "almost unimpeded".
The latest military aid to Ukraine was announced just a week after the Pentagon unveiled another $775 million arms package for the country, including Himars missiles, artillery and mine clearance systems.
"We want to make sure that Ukraine has a steady flow of ammunition to meet its needs, and that's what we're doing with this package," a senior US defense official told reporters last week. last.
According to local press, Biden would authorize military aid using his Presidential Drawdown Authority, which allows him to authorize the transfer of surplus weapons from American stockpiles.
The US has so far shipped billions of dollars worth of weapons to Ukraine since Russian President Vladimir Putin declared a 'special military operation' in Ukraine in an effort to 'demilitarize' and 'denazify' the country.
Ranging from anti-armour missiles to helicopters and beyond, publicly announced lethal aid packages have already exceeded $10 billion, with the vast majority of transfers being made under the authority of the Presidential Drawdown Authority.
Since early August, the Pentagon has announced two more military aid packages worth $550 million and $1 billion. They include HIMARS munitions, artillery munitions, Javelin missiles and other anti-armour weapons.
Most of the funding for these weapons comes from the money that Congress has set aside to arm kyiv. Congress approved two aid packages for Ukraine, including $13.6 billion in March and $40 billion in May. Half of these sums were intended for military assistance.
Meanwhile, US media also leaked last week that Washington was supplying Ukraine with more weapons than the Biden administration had publicly announced.
"Rumors are circulating in Washington that the US military" has supplied Ukraine with more weapons than announced, Policy announced last Monday.
According to the report, a senior Pentagon official revealed earlier that the US military had been quietly supplying Ukrainian forces with high-velocity anti-radiation missiles (HARMs) for some time to target Russian radar systems.
It was then that Interpol feared that many weapons shipped to kyiv would be sold and end up in the hands of criminals.
"The wide availability of weapons during the current conflict will lead to the proliferation of illicit weapons in the post-conflict phase," warned International Criminal Police Organization Secretary General Juergen Stock.
Moscow has long been critical of arms deliveries to kyiv by Washington and its allies, saying they only prolong the conflict and increase the risk of a direct confrontation between NATO and Russia.